River Delta Unified School District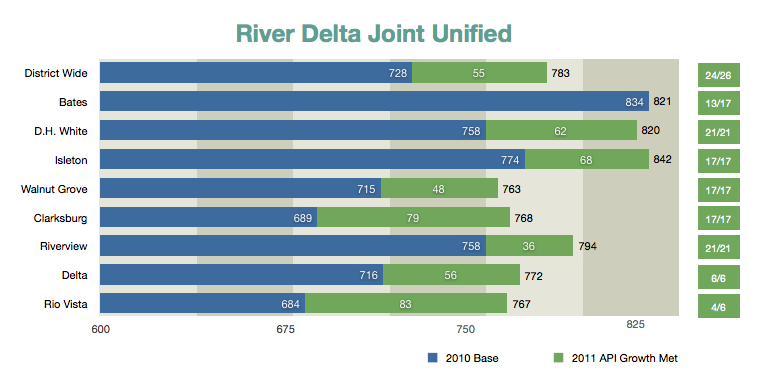 During this Sacramento area school district's first year of implementation with Strategic Schooling the entire district grew 55 points on the API—the largest district-gain in the county. Rio Vista High made a whopping 83 point gain, and at Isleton, their 68 point gain made them eligible for California Distinguished School. The structure of the professional development included:
Strategic Schooling leadership retreat, June 2010 with Dennis Parker
August kick-off K-12 training with Charlotte Knox
Each grade/department level team met with Charlotte 3 times during the year to problem solve around implementation, view demo lessons, and backwards map standards based instruction leading up to the CST
We are now working through year 2 of implementation with a focus on writing instruction K-6 and secondary school implementation of Strategic Schooling in grades 7-12.
—"The principals have embraced Strategic Schooling and in turn, so have the staffs. I was so impressed at the last workshop right before the holidays on the interest and sharing on writing. They are learning to be more collaborative in our district which is something that has been lacking.
It is a great experience for me to work with you and watch you invigorate our teachers to believe that they can do it. So, if we can be self sustaining in the future, I am sure you have plenty of districts that need your guidance so they can benefit as well."
-Rick Hennes, Superintendent